TRANSFORM ANY AREA OF YOUR HOME INTO YOUR DREAM HOME THEATER DESIGN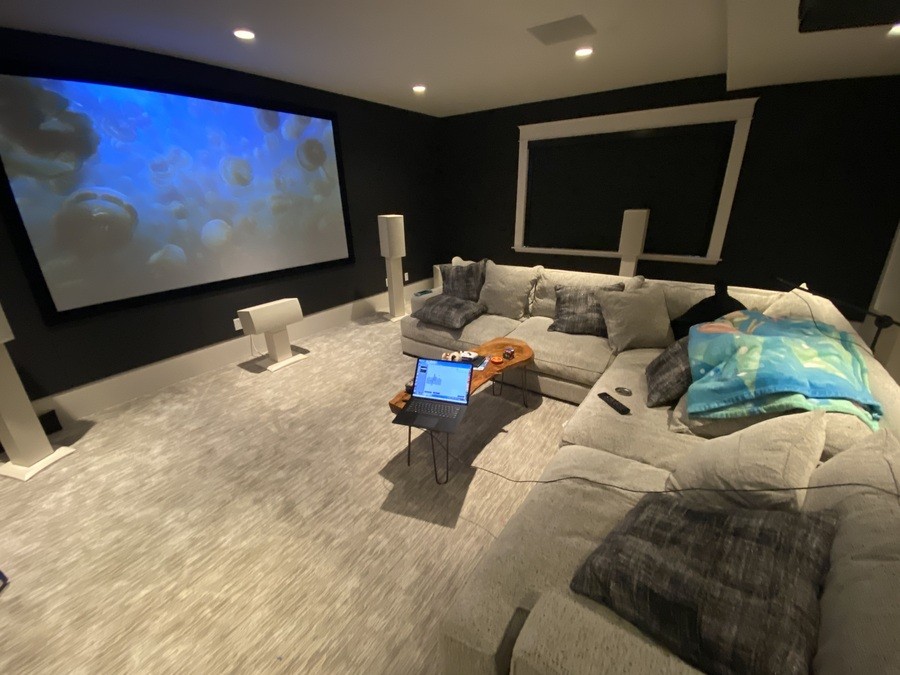 Elevate your entertainment in any space with home theater projectors & more!
There's nothing that boosts the fun of a modern smart home like bringing in the magic and thrill of cinema. Whether you want to host exciting movie nights for your friends or simply relax binge-watching your favorite series on your own, a home theater installation is essential to enjoy a luxury entertainment experience.
But what if you don't have a dedicated area to build your home theater in your house? No worries! With the help of the experts at Beemer Smart Home, that will never stop you from having a superior content-watching experience.
Keep reading our blog to learn how outstanding home theater design can transform any area of your Seattle, WA residence into a dreamy home theater.
Projector Screens That Come Out of the Blue
High-quality projector screens are essential part of recreating the movie theater atmosphere. However, projector screens are not the greatest asset to highlight in your interior design.
By integrating a drop-down screen, discreetly mounted in the ceiling, your screen will remain virtually invisible when you are not using it, helping you keep your family room looking stylish and modern. Then, as you want to enjoy entertainment with your loved ones, you can simply roll down your projector screen, and you'll be ready to start an unforgettable movie night.
Motorized Shades for a Comfortable, Stylish Room
Motorized shades are one of the easiest ways to transform an ordinary living space into a luxurious home theater. With the simple press of a button, you can manage your natural lighting and create that dim, cozy environment traditional movie theaters provide.
At Beemer Smart Home, we partner with Lutron, one of the most reputable brands in the lighting and shading industry, to offer you a wide variety of colors and fabrics for your shades so that you can add comfort and beauty to your home theater. Our blackout shades will completely eliminate ambient lighting for optimal viewing.
Achieve Proper Home Theater Acoustic with the Right Solutions
To get the ultimate immersive entertainment experience, high-quality audio installations are a must. And while it's easy to rely solely on speakers and subwoofers to do the job, adding acoustic panels is essential to achieve the audio experience you and your family deserve.
With these top-level installations, you can significantly reduce unwanted sounds and improve sound intelligibility, allowing you to enjoy every bit of your content to the fullest. Today's acoustic panels are available in many stylish colors and designs to fit any room.
At Beemer Smart Home, we want to help you create more enjoyable spaces to spend unforgettable moments with your family and friends. Are you ready to add a home theater installation? Reach out to our experts by filling out this online form or give us a call at (425) 829-1096 to schedule an appointment in our showroom and see the experience for yourself!
Stay Informed
When you subscribe to the blog, we will send you an e-mail when there are new updates on the site so you wouldn't miss them.